How do you find the dress you'll wear on the biggest day of your life? The dress that takes his breath away as you walk down the aisle? The dress that you'll be more photographed in than any other? It's exciting, but it can also be a daunting task. With so many styles available the first thing to consider is which ones work best for you. Remember, dressing to your body shape will always look better than simply copying someone else's style.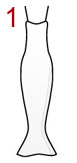 1. Captivating Column
The figure-hugging column dress is a versatile design that comes in a variety of strapless and backless styles. It's an elegant choice for anyone with broad shoulders, and if you have a slender or athletic build, this style is also particularly striking.
If you're petite it will elongate your figure, and if you're keen to flaunt your curves, the column clings in the right places. However, if there are certain areas you'd rather not accentuate, its clingy design might not be the style for you.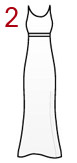 2. Elegant Empire Line
The classic empire line dress is cut with a high waist that sits just below the bust. Its slender, flowing style is the ideal choice for creating the illusion of length on a petite figure and is similarly flattering to the fuller figure as, just like the A-line, it gently skims curves rather than clinging to them. This style is also elegant on smaller busted girls.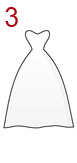 3. Stunning Strapless
The wedding dress style for those who want a full-on fairytale look! No longer disparaged as a "meringue", this style of dress is favoured by celebrity and royal brides. With a nipped-in waist and full skirt, it creates a dramatic hourglass figure and is perfect for creating that Cinderella effect you've always dreamed of…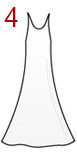 4. Alluring A-Line
Universally flattering, the A-line dress really is a girl's best friend. By gently flaring from the shoulders down, it skims curves rather than clinging to them, to create an elegant silhouette. If you're petite it adds the illusion of length; if you're tall it can add fullness, and if you've got curves you'd rather cover, the A-line does that too.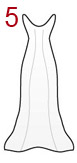 5. Pretty Princess Line
Created with a series of vertical panels of fabric, and no obvious waist, the Princess Line dress is more dramatic in appearance than the A-line, but similarly flattering. Its seams follow the contours of the body to create shape while its design elongates the torso, making it an ideal choice for anyone with a petite, small-waisted figure.