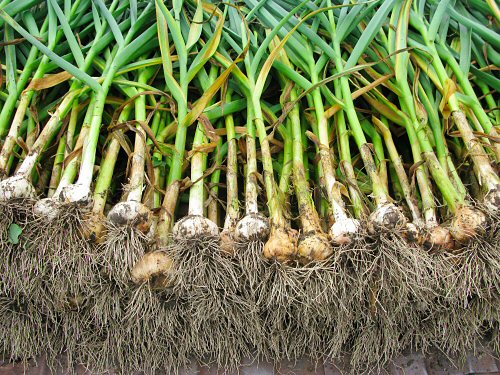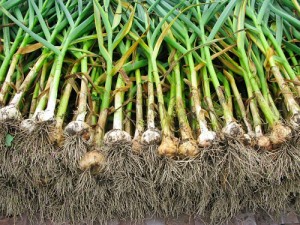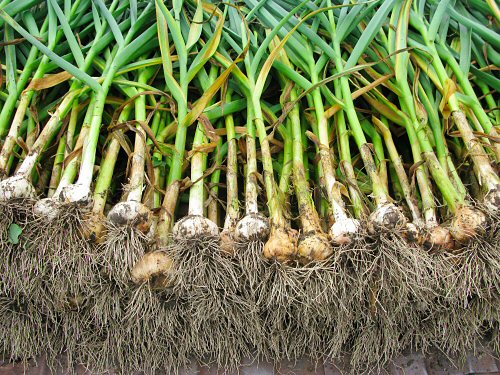 Garlic is a staple in every pantry. It is dubbed to be the world's healthiest food though its stench is not always welcoming. Garlic goes well with just about any type of food that you plan to make for your meal. Whether it's chicken, fish, pork, or beef, having garlic in any of your menu can deliberately make it tastier and more appetizing. Garlic has a strong taste that unexpectedly blends well with the food and the rest of the spices. It leaves a tinge of sweetness and strong savor that some spices aren't capable of doing.
Aside from that, garlic is an equally powerful little food that oozes aid to your internal body organs, specifically your blood cells. For one, it is one of the best foods to regularly take when you have cardiovascular-related issues due to an increased presence of fat in the heart area. It has a unique sulfur compound that melts fats in the tissue walls of the body and also acts as an anti-inflammatory compound. And because its sulfur compounds are high, it may even be beneficial to obese people. Two, garlic is also best in regulating blood pressures, which is another fatal health issue that most individuals are concerned about. Its sulfur compounds, which are absorbed by the blood cells, are used to produce H2S or hydrogen sulfide gas. The said gas is essential in expanding blood vessels and stabilizing blood pressure as well.
With these benefits, a lot of people are into garlic gardening on their own. It can even be grown by mediocre gardeners. Although it still needs your attention and care, it isn't like other spices and veggies that need gardening skills and fertilizers to grow well. Another catch is that garlic gardening is a pretty inexpensive habit to start with. Here are the basic steps in making your own version of garlic garden.
Firstly, choose the type of garlic that you would want to grow and would survive in your soil. Garlic come in two main varieties namely, hard necks and soft necks. For the hard necks, there are Porcelain, the Purple Stripe varieties, and Rocambole varieties. Meanwhile, the soft neck family includes Artichoke and Silverskin. Porcelain garlic is characterized by white, thick bulb wrappers that securely conceal its large cloves. Porcelain garlic is best grown in Northern area, but can still be grown in some Southern parts in Florida, South Texas, and California. It is also the neatest in the family and the longest shelf life, too. Rocambole garlic is characterized by thinner bulb wrappers and may look dirty, but it's actually the tastiest of all garlic varieties, making it the best choice of most cooks. It grows well in areas where Porcelain garlic grows and because of its shorter shelf life, gardeners tend to opt for Porcelain instead. Purple Stripe garlic gets its name from its looks and its cloves are covered with thick bulbs, too. Its smell is not as strong as the other members in the family, but it's definitely the sweetest in the group. For the soft neck variety, we have the artichoke garlic, which is the most common variety found in most markets in the world, especially in the US. It's widely grown in California and it offers rich taste and milder pungent. Silverskin has the longest storing life and it has more cloves per bulb. It is also the last variety to pop out of the ground during the harvest season. Meanwhile, the Creole garlic is the best looking variety in the family having eight to twelve cloves per bulb. It also happens to be the best choice for those who want to eat it raw as it has moderate tang, yet rich flavor. It is best grown in southern climates and it is very tolerant to harsh weather conditions.
Once you have chosen the variety of garlic that suits your area, the next step is to determine when to plant it. Knowing the right season to plant them is a critical element to its proper growth, taste, and condition. Generally, garlic is best planted during the fall season, specifically in mid-fall, but it's always better to have good research about the proper time for growing garlic, especially if your place is too cold during the winter and too hot during summer. On the one hand, there are also varieties of garlic that are best planted during early spring.
The state of the soil is another important criterion to never neglect when doing garlic gardening. Prepare the soil bed by adding manure and compost loam in it. However, don't plant garlic into a soil bed that's freshly-filled with manure. Nevertheless, add manure several months prior to the planting day. Garlic doesn't thrive best in clay type of soil and loves to be planted in sandy loam type of soil. While it needs a sunny area, it can tolerate partial shade, especially during summer months.
Next, prepare for planting your garlic and make sure to use fresh garlic only with large cloves, and it is advisable to use organic choices only and those that have not been sprayed with chemicals. If you like to learn more about planting garlic and its varieties, you could visit a nursery today. Separate each clove from each bulb and make sure that its base is not damaged or it will either rot or will not grow at all. Choose the bigger cloves as the smaller ones will only yield smaller produce, which only takes up unnecessary space in the soil bed.
When planting garlic, shove each clove into the soil for at least an inch below the soil, leaving a portion of tip visible on the surface of the soil. Plant each clove at least 10cm apart to make way when they get bigger. Meanwhile, if you are planting during the snow season, place them in divided trays, water well, and place them in a cool place. Once it has sprouted and that the snow season has subsided, you can start transferring them to an outdoor garden. One tip to consider is to always water them during long, dry season as it may affect their growth and store life.
Most gardeners wait for August to harvest their garlic. Nevertheless, once the lower leaves have turned brown, it is an indication that the plants are now ready for harvest, but its upper leaves would have still remained green. Don't green for its entire leaves to become brown like onions as the garlic would have died by that time. Avoid lifting the bulbs carelessly and carefully dig into the bulb using soil fork instead. This is to ensure that the bulbs underneath the soil won't get damaged during the harvest season. Finally, don't wet the harvested garlic once harvested. If rain is expected, place it indoors.
While growing garlic may be easier compared to other vegetables and spices, it still needs proper attention and care in order for it to grow well. Before deciding to have your own garlic garden it is also to consult from gardeners to know more about the process. Getting more advices from them ensures the success of your garlic gardening. This plant is too beneficial to be disregarded.