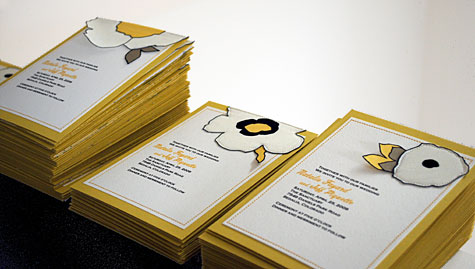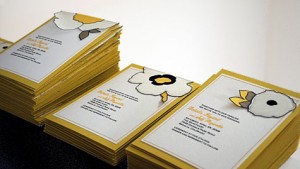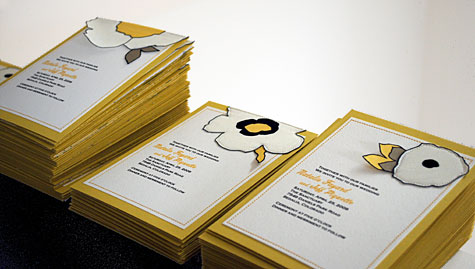 One of the most important aspects when making an initial wedding planning is the wedding invitations. Taking caution in creating the invitation can lead to better and more presentable invitations that'll definitely impress probable guests. After all, first impressions are still very relevant today, particularly when it is used for a big day. Hence, you should first decide whether or not you like a DIY or a ready-made invitation. To help you decide which option is the best, here are the usual pros and cons of making your own wedding invitations.
PROS
Cheap and more savings – Face the fact that there are other aspects in the wedding day that you have to consider more other than your wedding invitations. For one, there is food and dining; bridal gowns to rent or to custom-made; venue and equipments to rent to keep the wedding ceremony running; and, of course, fees that come along with the wedding. With all the costs that you would have to incur during the entire celebration, don't you think it's too unrealistic if you spend more on just the wedding invitations alone? DIY invitations let you explore your own themes, ideas, and resources, without sacrificing your savings because you are in control of it. Extravagant wedding invitations that use fabrics, lace, and superb inking may cost about $10-20 per piece while a DIY that looks very similar with the ready-made pieces may only cost about $5-7 depending on the materials used.
Unique – Ideas are endless in a DIY wedding invitation. You can either incorporate it with dried leaves, felt papers, sparkling ribbons, perfumed paper, photos, a box, cloth, and just about anything that you can think of and no one will complain. The sky is the limit when it comes to your ideas and creativity. Unleash your artistic side and see which is best for you.
An Outlet of your Emotions – Creating your own wedding invitation can ease your emotions and relieve tensions brought about by the wedding preparation. Cutting, gluing, designing, measuring, and all other activities related to the craft are good ways to divert your attention from all the pressures that the big day is putting you through. It can potentially relax your mind and can also be a way of bonding with your girls and friends. This craft can even make you feel happy especially if you are contented with the end result.
CONS
Time Consuming – Wedding planning isn't just all about invitations and creativity, but it's also about socialization and intimacy, hence, you should divide your time wisely according to the tasks needed for the preparation. If you pick to have a DIY wedding invitation, remember that you are not only devoting your time to this aspect, but you are also devoting your feelings to it. Using a couple of days just for the invitation is not sensible given the fact that you still have a lot of other tasks to care about. Hence, it is always advisable to have a free aid when opting for a DIY invitation.
Lack of Ideas – If your creativity is inborn, then maybe this project is for you, but if not, then maybe you should skip the idea of a DIY wedding invitation. You need to be fluent in realizing your ideas, so you can come up with an invitation that you will find contentment and happiness at. Apart from that, lack of inspiration can lead to stress. Don't let the first leg of wedding ceremony drain the excitement.
Indeed, having DIY wedding invitations is quite consuming and stressful. However, if you still choose to do the task on your own, here are some tips that you would surely need in the process:
Gather ideas and check for inspiration from different sources: online, magazines, and friends. Prior to even deciding on having a DIY wedding invitation, you should have a good background on how exciting and stressful it can be to do it.
Pick a design that suits well to the theme of the wedding, which can run from fairy tale, sports, and the likes.
Make a draft for the design first before making a final layout to avoid wastage.
Have the right supplies, equipment, and paraphernalia.
Equipment needed for this task include:
Computer
Software that lets easy designing and printing of wedding invitations
Paper to print and design on
Supplies include:
Glue
Ribbon
Ribbon cutter
Lace
Shells (optional)
Colored or white/off-white cards
Satin
Crystals, sequins, beads, and other small stuffs that could add oomph to your card
On the one hand, DIY wedding invitations don't necessarily mean handmade cards all the time. In fact, often than not, couples opt for printed and electronically-designed cards. All they have to need is design software that provides tutorials and ideas in making DIY wedding invitations and its then up to them on how they will go about with the project. This option is very DIY and potentially minimizes wastes and time. So, are you still willing to go for handmade DIY cards or easier and faster, electronically-aided invitations?