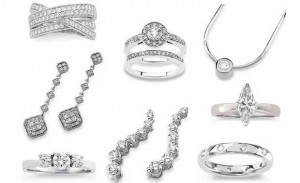 Buying jewelry isn't an easy feat, especially if we talk about real jewels like genuine diamonds, gold, and other gems. Firstly, we are talking about money here since a well-made, authentic diamond ring could cost for several thousand dollars. Compare that to a fake or a knock-off piece of accessory, which could only cost a hundred or less. Secondly, buying jewelry for a loved one on a special occasion needs meticulous choices or she'll never feel the sincerity that comes along with it. Thirdly, a single jewelry wouldn't only make or break a relationship; it also makes or breaks the environment. Did you know that mining gems is one of the biggest culprits of the gradual deterioration of our environment? A mining activity leaves an imprint of several chemicals including mercury in the process, which is not only a threat to the environment, but also to our health. Before you consider yourself doomed to knock-offs and before you stop yourself from buying one, check out the following guide in buying jewelry.
Choose between vintage, antique, or pre-owned sparklers – You don't really need to buy a new one to give a beautiful piece of jewelry to a special person. A vintage piece, antique, or a pre-owned sparkler can always bring delight. Apart from that, an antique piece is very valuable because it has been passed on to generations and it can bring a bit of mystical to it. It is also the eco-friendliest piece in the market because no new substances were mined or gathered to make it. There are also jewelry cleaners out there that can add sheen and bring back its genuine appeal.
Purchase those that are made from recycled materials – Surveys show that most gold mines may be destructed, but some gems may not be totally affected by the destruction. In fact, 80% of it is still recyclable. Some jewelers also tend to recycle jewelry materials that are being sold from people who don't use it anymore. Buying sparklers from recycled materials is another way to show support to a sustainable environment. Some buyers even opt to have their unused or damaged bracelets made into rings or into shorter bracelets for gifts, which is another way to support eco-friendliness sans putting a hole in your pocket because this option is cheaper than buying a new one.
Meanwhile, here is the list of jewelers that sell sparklers from recycled materials:
Alkemie – Located in San Francisco, Alkemie is known for its pieces ranging from belts, rings, necklaces, to earrings that are all made from 100% recycled materials. Claimed to have been inspired by Mother Earth and its inhabitants, the owners have a long list of jewelries that speak of nature and its wonders.
Green Karat – Especially designed to suit the budget of frugal couples, Green Karat is another name in the industry that makes eco-friendly accessories from recycled materials. Its raw materials are either from recycled metals or from lab metals.
McFarland Designs – Residing in Humboldt County, California, Tamara McFarland is both meticulous and careful in continuously providing her clients with beautifully-crafted, ethical and eco-friendly rings, at reasonable prices. She uses 100% recycled Harmony metals and fair trade stones.
Don't forget the timeless beauty of pearls – Experts note that if there's one material used to make jewelries that don't leave a harmful impact to our planet, it would have to be pearls. Harvesting pearls wouldn't leave footprints of carbon in the marine sanctuary, but may aquaculture may leave a potential damage to the environment due to the high-powered hoses they're using to clean oysters. Nevertheless, these are not as damaging as the machines used in mining for gold; not to mention the tons of carbon footprint left after the process.
The guides mentioned above are very easy to remember. To sum it up, you could go for vintage, antique, or pre-owned if you want a touch of mystique and value to the jewelry without necessarily hurting your pocket and the planet; you could go for designers that sell sparklers from recycled materials; or choose pearls that spell simplicity and class. On the one hand, buying jewelries isn't just about buying any jewelry. It is an action that may require deep thinking, particularly if you don't want to waste your money into nothingness. Well, I'm not saying that jewelries are nothing, but if you get one just because you want it, then maybe you could be wasting your money since it is one luxury that is rarely needed. If you stop yourself from indulging with it, then you could be helping lessen the harmful impact of mining in our planet.
Speaking of harmful impact, it is also strongly advised to not buy jewelries manufactured in Kenya, Madagascar, Israel, India, Belgium, and South Africa because the workers there are suffering from forced labor and human slavery. So learn how to buy the right pieces and at the same time learn how to help lessen mining in the environment.