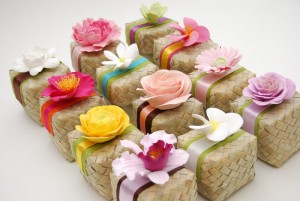 Have you had difficulty choosing what kind of wedding favors do you want to impart to your guests? Wedding favors comes in different flair. A collection of your favorite songs compiled in a disc has been popular. It usually gives more impact if it is personalized. Think of something common between you and your partner, this can be a hobby that you both share or memorable events in your life like "the first times.." thing. It will be best to have your own unique invention than to just buy a ready-made one. Try your creativeness. Nowadays, wedding favors that has special connection with nature gives more impact to the guests. Aside from its inexpensive cost, in some ways you are also helping Mother Nature. The fresh look that it has just signifies how beautiful our nature. Hence, it is not only representing your wedding vows but the importance of Mother Earth as well. Here are seven Eco-friendly wedding favors you might want to have for your wedding:
Paper cards with plant seeds. Foods for the thoughts are written in the cards attached with seeds that are ready to be planted. This kind of favor can never fade as it lives in the seeds that will somehow grow into a beautiful ornament once planted by the guests. And the food for the thought is just so soothing to be read. The value that goes along with it is priceless.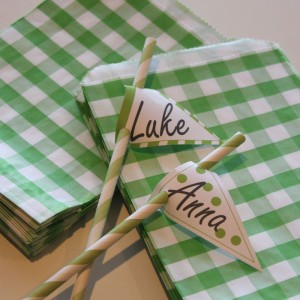 Mini pots of trees, flower and herbs or a terrarium can be so touching to give. This is very appropriate for a green wedding favor. Trees have great roles on earth it surely is a great joy to be able to take care of it as it grows. It can maintain the air fresh and clean and can inhibit natural calamities such as floods to occur. Flowers has essential roles in the society as well, its main purpose is to bring beauty to the surroundings. The plant that can make our food delicious and healthy are the herbs, it can definitely be the wedding favor to a chef couple. The little pots will be decorated in accordance to your theme. It can be a tin can, clay pots or a cute box which has a message on it or a card tied on the baby plant. For a hassle free preparation on this, you can avail of these ageless sprouts through an organization that caters ready packages.
If you are fond of birds, bird seeds as wedding favors are best for you. The seeds can be shaped in many forms, it can be a heart shaped for a romantic twists or a letter—the first letter of your names may be. It will be neatly wrapped in a biodegradable bag with your names on it and the date of your wedding. Gear up your favors in a stylish way. The manner of wrapping it gives elegance so it is best to be mindful on how it is presented. Some will have it placed on a gift box display it near the entrance of the reception area. Others prefer to delicately have it in a plate or a basket displayed on the table. For a casual and classy effect, you can have it in a paper bag tied with a pretty ribbon. Be creative and enjoy preparing it.
Baked eco-yummies are best favors to those who love sweet treats. Cakes and cookies in small sizes gorgeously packed in attractive materials will get the guests tempted to have a bite. You can use clear plastic bags so to show the pretty colors and texture of the cookies tied in an earth colored ribbon. Cupcakes will be presented tastefully with whip cream in the same color as the theme.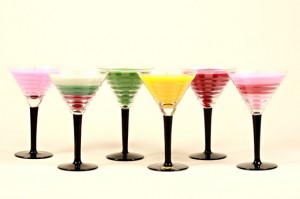 Home-made soy candles are another wedding favor that has a romantic touch. Add special scent on each color based on the motif you have. You can have it on a jar or ceramic tea cup for a distinct edge. Some placed it in a tin can with antique looking prints on it to have a historic feel on it. The traditional and simple style is placing it in a clear or colored glass with a card tied on it.
Bird houses can be symbolic in such a way that it represents the couple living together harmoniously. Wooden bird houses are more durable. It can go with pastel colors which signifies the softness side of the couples or the color of the wood to bring the native look on it. Wrap the houses in bright patterns if it is made of cardboards. You can as well print your names on the houses itself or you can tie a card with your names on it. This way you can help birds find their home in your place.
Whichever you choose amongst the ideas given above, one great thing about it is that aside from the purpose of celebrating the wedding ceremony it also gives you the chance to add life to our Mother Nature. And it is not only you who's doing it but as well as the whole guests you will soon invite.