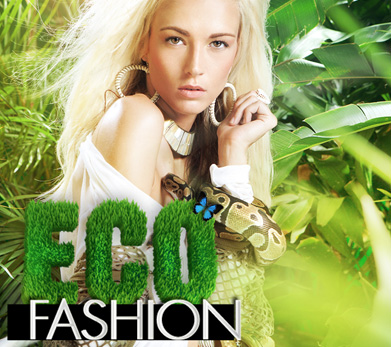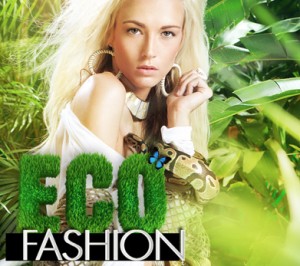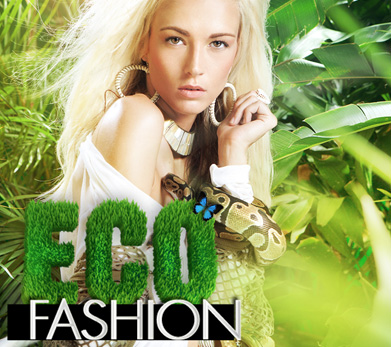 There's no doubt that we are living in the modern times and most of us are conscious of the way we dress. It's true, fashion has become a part of our daily lives and because of this the industry is able to produce the annual revenue of $300 billion a year. Imagine that! So much money for clothing and stuff. Now imagine what cost is involved in manufacturing these goods. Surely the environment is affected in some ways as we constantly demand for the trendiest outfits as there are chemicals being used in the production process. The water, land, and the air all around us is threatened and the situation is getting ugly.  The truth is, the fashion industry is considered as one of the most damaging in terms of preserving the good health of our environment and we need to do something about this now! The solution to this problem: wear eco-friendly outfits and be an eco-chic.
Finally, Green Is Becoming Fashionably Gorgeous
Eco-fashion is relatively unknown since way back when as most of the fashion gurus and designers are keen into maintaining their focus on the conventional mod. It was only considered then as a subculture that is enjoyed by some nature lovers, but nowadays it's already transcending into the mainstream scene and more and more are already accepting this as a modern style in which everyone can go fashionable while being friendly to the environment at the same time. In fact some of the biggest names in the industry are incorporating the use of eco-friendly fabrics and methods in their clothing design and manufacturing. One of the advocates of this ever-rising movement is Livia Firth, the wife of Oscar winner Colin Firth and the creator of Eco Age magazine. Livia has made tireless efforts to ensure that the future of the fashion world will be green as she challenge all these actors and actresses by wearing some of the most sustainable styles while attending a red carpet event. Other supporters of the Eco-Fashion movement are Nior and Edun and even the pioneer designer named Stella McCartney who has already incorporated the eco-movement amongst their stylish designs.
And if you're still not convinced, Eco-Fashion has already managed to penetrate the London Fashion Week by including Estethica into the week-long display of style and beauty. Estethica is a fashion show which is solely devoted to all the eco-friendly designers and their commitment into making some of the most elegant and stunning environmentally- sound outfits. In addition to this, some of the major cities in the US also hosted their own version of eco-fashion events like The Green Shows which was held in the city of New York and the Eco Fashion Week which took place in Vancouver.
Eco-Fashion Dresses Made Economical
Fashion is not only limited for the elite, and so is eco-fashion. If you're interested to wear some of those pretty-looking nature outfits today, there are a handful of stores who are already selling their line of fashion of clothing today. For instance, H&M has released their Conscious Collection fashion line of trendy clothes at very affordable price. On the other hand, Levi's, the premier brand in Denim Jeans has also released their Water Less jean collection where all the jeans are made from the eco-friendly materials and were manufactured through eco-friendly methods. In addition to this, Thieves brand, Paper People Clothing, Elroy Apparel, Lav & Kush (with their Odina eco-swimwear collection) and Miik have already decided to join the eco fashion bandwagon. Truly, more and more companies in the fashion industry are becoming more environmentally aware and this is a great move for all of us.
There are also companies that add in their use of eco-friendly materials through their products in a remarkable way like soleRebels, which is an Ethiopia-based brand of footwear, uses eco-fabrics while the workers get four times the salary of their minimum rate and still enjoy the similar workload. On the other hand, Local Buttons made all the designs of their outfits in Toronto and have them all produced in Port Au Prince, Haiti with the use of second hand fabrics that were brought from the street markets.
Other Means Of Getting Eco-Fashion Outfits
If you want to make your contribution to the eco-friendly trend while having these affordable and stylish clothes at the same time, you can take advantage of these other options in obtaining eco-fashionable garments either by purchasing or sustaining your current outfits:
1. Second hand stores – The used clothing industry is also a heaven of eco-friendly clothes and dresses. You can enjoy a lot of trendy and vintage outfits that you don't normally see at the malls and get them for almost 70% off the regular price. Check out Value Village and Goodwill as well as other used clothing stores today and take advantage of their fashionable clothes without having to worry about ruining the environment.
2. Clothes swap – This practical move to reduce carbon footprint is also slowly becoming a popular activity these days. Clothes swap (otherwise known as closet swar) is simply the process of trading your old clothes from your closet to get other outfits without having to pay anything. You can do this with all of your friends or you can simply go online and check out Swap Style or Clothing Swap for more inspiration.
3. Updating your garments – Another way to sustaining your clothes and reduce the carbon footprint is to update your wardrobe by altering the design of your current outfits. Be creative and start to alter the design of your clothes and jeans to make it trendy again. If you're interested to update your wardrobe today, be sure to check out Dye It Black for more information.
So do your share of saving nature today without having to compromise your love for fashion. Choose to wear eco-friendly outfits and leave a mark into the fashion world. Be an eco-fashion chic and show your fashion sense in a 'green' way.