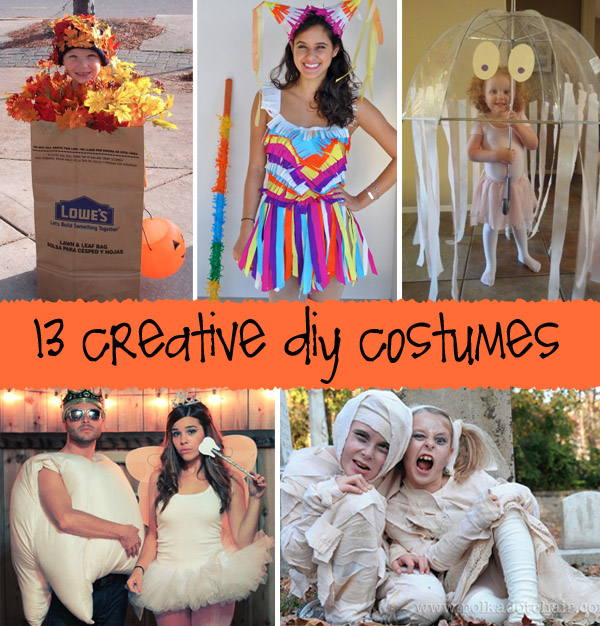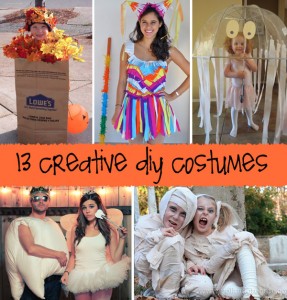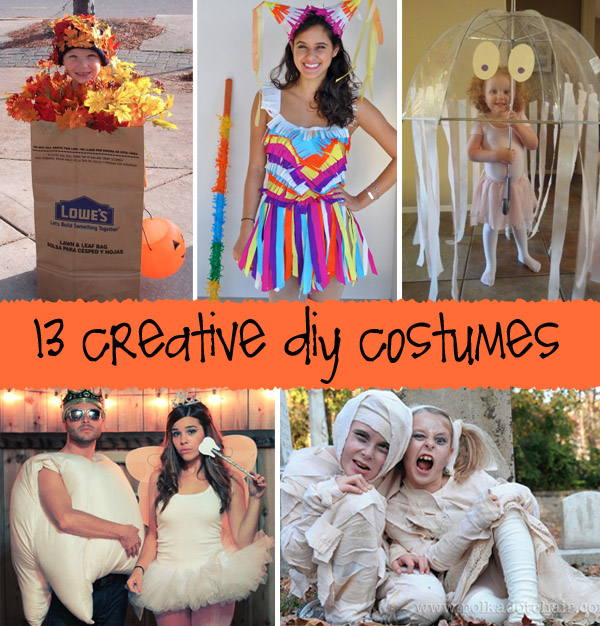 Do you know what kids think when Halloween is approaching? Candies, chocolates, of course, trick or treating goodies – what else? But do you know what adults have in mind when this season comes? Halloween costumes, parties, and masquerade balls or in other words, fun. Anyway, it doesn't really matter whether you're an adult or a kid because Halloween costumes are a must in this time of year. And don't think that you need to spend more money to create a costume because these DIYs are the perfect choices for you and your cute Frankenstein's or witches.
For Kids
Little Spelling Bee – This costume is pretty much effortless and easy to make. You only need a black leotard and matching opaque tights and black long sleeved top. For the letters in the leotards, make at least three stripes of yellow tape, leaving space after each strike, so it would result in a yellow-black-yellow combination. For the letters, opt for adhesive letters at bookstores and department stores. The rest of the materials are hangers, Velcro, glue, clear recycling bags, and black pipe liners. For the wings, bend the hangers and shape as wings; cover it with the clear recycling bag; and seal the edges of the hangers with glue to secure. Meanwhile, for the antennae, prepare a black headband and stick together two pipe cleaners to the head band using the glue. To achieve a black and yellow color combination in the headband, place adhesive letters in each antenna and you're good to go.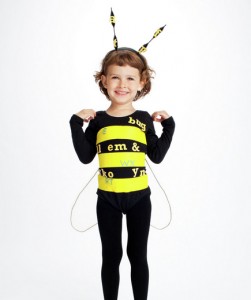 Hawaiian Girl – Who could never want to be the cutest hula girl in a Halloween party? Let your girl shine in this hula costume by preparing a big, brown paper bag, double sided tape, lots of colorful cupcake liners, ribbon of any color, stapler, and a used Hawaiian shirt or any top that evokes fun, floral, and colors. Cut down in the middle part of the paper bag and lay it flat. To create the fun in the skirt, create strips by cutting at least an inch from the bottom part of the paper bag, stopping about two inches before it reaches the top portion. Do this from one end of the bag to another end and repeat until all lower part of the paper bag is completely frayed. Attach the ribbon to the top of the bag using the glue and it should be long enough to tie at the back of the child similar to that of an apron. For the lei, prepare the cupcake liners and a long ribbon. Gather at least 5 cupcake liners and staple them together in the middle. To resemble them into a flower, make creases and attach them to the ribbon. Repeat until the long ribbon is completely covered with the creased cupcake liners that look like flowers. Be creative and apply it to her slippers.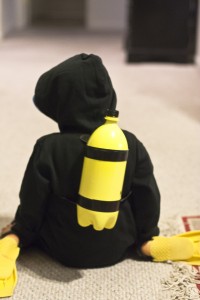 Little Scuba Diver – What does every scuba diver needs to survive underwater – an oxygen tank, a mouth device, and a pair of goggles. To create the tank, prepare two 2-liter bottles, black spray paint, pacifier, and yellow utility tape, shoe laces in black color, black cord covers, and hot glue gun. Start with the bottles by cleaning and drying them thoroughly. Once dried, spray paint them with black and leave to dry for a day. Then, wrap its upper and bottom part with yellow utility tape, creating a yellow band. With the use of the hot glue, carefully glue the shoe laces at the top and bottom part of one face of the bottle and secure it on the child's shoulders. For the mouth device, wrap the end of the cord with the yellow tape and then attach the pacifier at the other end of the cord with the use of the glue. Let it dry overnight.
My Little Angel – Parents like to see their kids wearing angels' wings and with that cutie face, there is nothing more exciting than to make a pair for her with matching halo of course. Focusing on the wings, you'll need coffee filters, hole punch, pencil, gold pipe cleaners, white shoelaces and cardboard, and tape. For the halo, shape the gold pipe cleaners in the right form. To make an outline for the wings, draw two shapes of the wings on cardboard and carefully cut them out. Let your child try out the wings and see the most convenient spot for her to wear the wings, determine the area, and punch 4 holes in the cardboard on the located area. Place shoelaces through each hole and used them to tie around your child's shoulders. Finally, fold coffee filters in half, attach them to the cardboard outline of the wings using glue to make them resemble for the feathers.
Cutest Clown on Earth – For Adults
Bunch of Grapes – This is probably one of the easiest DIY Halloween costumes for adults. All you have to do is prepare green, purple, or red long sleeved tops. Pin small balloons at your front and back, add a little bit of leaves on your hair and you're good to go. You might also like to gather big, green leaves, attach these in a thin, black headband using glue dots. On the one hand, it would also be more exciting if you could invite some of your friends and decide whose green, red, or violet.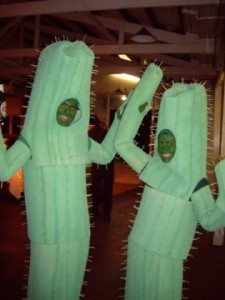 Thorny Cactus – You have to prep with a green sweat suit, pipe cleaners, and hot glue. Have your green suit ready; form pipe cleaners into a three point shape; and then attach as many as you can all over the suit with the use of the hot glue. You might want to include a few lizard toys and flowers.
Wilma of the Stone Age – There's nothing more exciting than to be able to remind you of the Stone Age as Fred and Wilma Flintstone. Wilma Flintsone is also the best Halloween costume that you can bet on if you want to how some skin in for party. Materials for this costume include a shirt, Styrofoam balls, sewing machine, and pin. Grab a used 3xl or 2xl men's t-shirt (dependent on your size, but should stop at your thighs); pin the sides to fit in your body; and cut out the knee part to make an instant one shoulder piece. Cut out the sleeve and pin the shoulder part of the shirt, too. On the one hand, the necklace is pretty simple. Make a hole in the middle part of each Styrofoam ball with the use of an ice pick and attach them together with the use of a string. Lastly, Wilma's hair is orange. Grab an orange hairspray and put it into an untidy bun and you're good to go.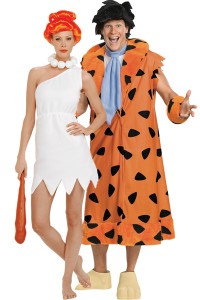 You see, making Halloween costumes need not be an expensive task. You don't really need to shell out a hundred dollar to go to a costume party and look as ridiculous as everyone else. The beauty of DIY Halloween costumes, aside from the fact that they're cheap, is that they're also eco-friendly. Come on, you won't really use the same costume every Halloween, which makes it the more reason to not spend a lot on them. You could also recycle some pieces of clothing and craft materials that are only sitting in your cabinet, which is one way of de-cluttering it. Go ahead; choose your DIY costume; and have trick or treating without feeling guilty for the environment and your pocket.