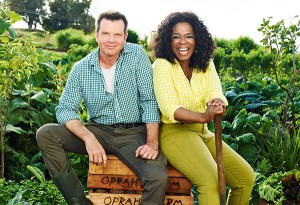 Organic gardening has become a healthy practice not only for regular folks, but also for notable personalities. They have realized the full potential of having an organic garden and the health benefits of eating foods that grow on your backyard. Here are some celebrities who don't mind messing themselves and getting their hands dirty with green gardening:
Maria Menounos – She's not just one hottie on and off camera, but she's also an advocate of organic gardening. In 2011, she was ranked as one of the best celebs who go green, and she's even inspired a lot of people, specifically women, when she released her book, The EveryGirl's Guide to Life. The book mainly caters to girls who want to go about in life breezily sans the need of extra money, more time, and more effort, and one of these ways is going green. Her family has taught her how to go green and she has been practically raised consuming organic foods.
Elizabeth Hurley – Trust me; she's not just all about green eyes, luscious lips, and enviable body. She's one of the most successful organic farmers in the Hollywood industry, and she has continuously sold organic meat and foods at local markets. She has a 400-acre organic farm in Gloucester where she's able to reap all the necessary ingredients for her line of all-natural snack bars. Obviously, she still loves being celebrity as she's still seen on the limelight.
Reese Witherspoon – She's known for her amicable personality and impeccable performances in most of her flicks. Little did we know that she's a farmer by heart every time she visits her farmhouse in Ojai, California. She has introduced the life of farming to her kids and they've been a fan of farming as well. She has tomatoes, cucumbers, and chickens in the farm, where she used to share the same passion with ex-boyfriend, Jake Gyllenhaal.
Gwyneth Paltrow – She has been a known advocate of anything organic and eco-friendly. Her website, Goop, shows her ideals when it comes to green living as she provides more information about eco-friendliness and organic gardening and food choices. The site only speaks about wellness without the expensive side.
Angelina Jolie and Brad Pitt – We all know them as one of the most gorgeous couples in Hollywood along with their large brood. Little did we know that they're into healthy living as well. They have their own 1,000 hectare wine vineyard in the South of France and they only eat organic food choices.